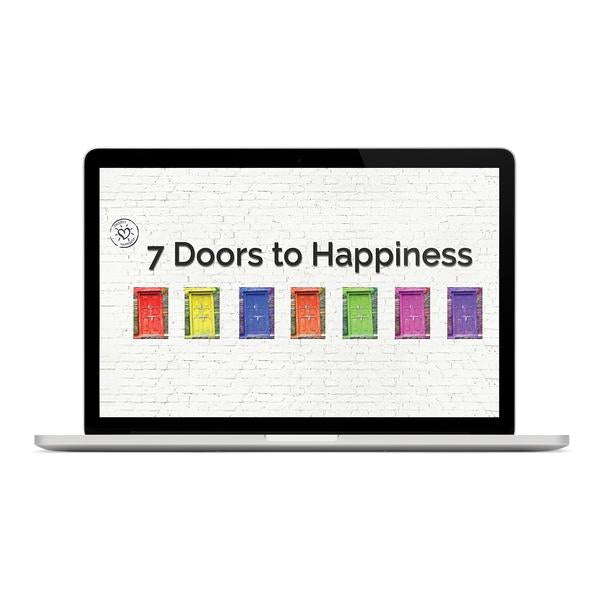 7 Doors to Happiness Online Course
$75.00 $149.00
7 Doors to Happiness online course is an introductory, interactive and inspirational course designed to help you access your inner awareness, manage your emotions, identify your strengths and begin your journey to fulfilling your purpose.  

In this course you will learn:
Door 1: Your personal definition of happiness and how to develop it

Door 2: Obstacles to happiness and how to communicate about them.

Door 3: The connection between your thoughts, feelings and actions

Door 4: How to master your own emotions.

Door 5: Why compassion for yourself and others is essential

Door 6: Interdependent relationships and the Science of Awe

Door 7: Your personal strengths and how to discover your purpose.
Based on neuroscience, positive psychology and mindfulness with knowledge from world-class experts including Dr. Kristen Neff, Tal Ben-Shahar, Dr. Carol Dweck and others. Dive in and surpass your own limitations.
What's Included:
Registration and login credentials to our learning platform
Access to user and discussion groups 
Special offers, webinars and courses for members. 
SPECIAL⭐ Enjoy the Beautifully illustrated in full color, this 195 page experiential kindle book! Suited for teens and adults alike, it is designed to engage you in activities and questions to make you go deeper, know yourself better, and awaken you to your true potential. It provides practical tools to:
- be calm within the chaos
- discover your strengths
- reboot your relationships
- deal with that inner critic
- tap into your passions for a more meaningful life.
Reviews
"The 7 Doors to Happiness project was a wonderful opportunity for my students to learn about happiness from several different vantage points, and apply happiness research findings to their own lives. Feedback from the students was overwhelmingly positive, and I plan to offer this option again."

Jesse Graham,
Professor, University of Southern California
"Five classes of freshmen composition at Tennessee State University in Nashville, as well as their instructor, benefited greatly from Project Happiness and the 7 Doors curriculum.
The multi-media content is leading edge in many ways and offers a standard for other content delivery designers. Student engagement is markedly enhanced by this platform and its aesthetic. The impact on affective domain is powerful and transformative. Measuring it would make for a great research project, as well as a TED ED lesson.  This is first-rate stuff."
Bob Bradley
Founder/licensee: TEDxNashville
Professor, Tennessee State University
If you've ordered the Project Happiness Handbook, or the documentary film, they are physical products that will be shipped to you.
If you've ordered anything else, including the Educational Curriculum, they are digital downloads, and you'll receive an email shortly after you've purchased!
Please contact us with any concerns or questions at: hello@projecthappiness.org
---