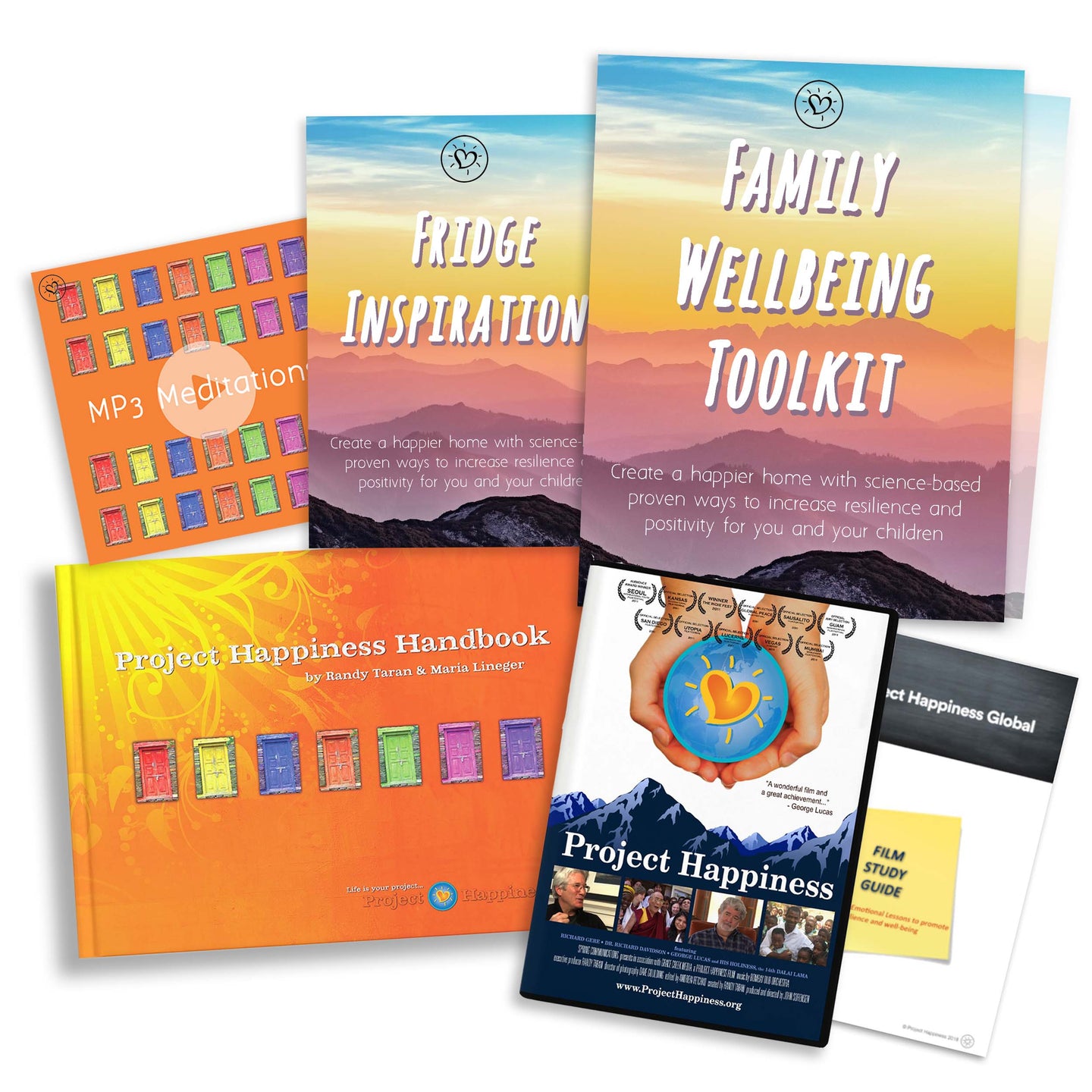 Family Wellbeing Toolkit
$150.00 $199.00
We know you want the best for your kids and your family. But in this age of digital dependency and escalating anxiety, 1 in 5 adults in the U.S. and 1 in 3 youth are feeling stressed out. Which begs the question, how do you nourish meaningful connection, relaxation and thriving?
You want your kids to have the skills for better relationships, social and emotional intelligence (SEL), and resilience when they face challenges – that's something that every adult needs too. So we've put together this Family Wellbeing Toolkit to help you explore science-based proven ways (from positive psychology, neuroscience and mindfulness) to increase resilience and positivity: both yours and your children's!  
What's included:
1 x Family Wellbeing Toolkit
1 x Activity Kit
1 x Fridge Inspirations
1 x Project Happiness Handbook
1 x Project Happiness Film (Streaming)
1 x Film Discussion Guide
1 x Mindful Meditation Series

It's like building a house. When you think of your ideal home, every room in it is meaningful to you and your family. That's why we have described each aspect of happiness as a room with activities that contribute to every facet of your wellbeing. When you finish this adventure, and go through all the rooms, your home will be thriving in a brand new way.
Everyone will learn how to:
     Room 1 - Increase long-term and short-term happiness

     Room 2 - Grow gratitude

     Room 3 - Identify your family member's strengths, including your own!

     Room 4 - Learn how to shift perspective

     Room 5 - Help everyone master mindset (inner meanie & inner friend)

     Room 6 - Share new ways to manage emotions (ninja mastery)

     Room 7 - Activate empathy

     Room 8 - Appreciate our differences and similarities

     Room 9 - Share your gifts
The Handbook will be shipped to you, the rest will be provided in downloads and a film streaming code. 
If you've ordered the Project Happiness Handbook, or the documentary film, they are physical products that will be shipped to you.
If you've ordered anything else, including the Educational Curriculum, they are digital downloads, and you'll receive an email shortly after you've purchased!
Please contact us with any concerns or questions at: hello@projecthappiness.org
---